Our Story
Founded in 2007, sweetgreen is a destination for delicious food that''s both healthy for you and aligned with your values. We source local and organic ingredients from farmers we know and partners we trust, supporting our communities and creating meaningful relationships with those around us. We exist to create experiences where passion and purpose come together.
Watch the Video
Core Values
These five core values embody our culture, spirit and dedication to doing what's right. They keep us aligned and help us make decisions about everything from the food we serve to the way we design our stores.
win, win, win

create solutions where the company wins, the customer wins, the community wins

think sustainably

make decisions that will last longer than you will

keep it real

cultivate authentic food and relationships

add the sweet touch

create meaningful connections every day from farm to patron

make an impact

think smarter, work harder, do it together
Store Design
The same core values that drive our business influence our store design. In the spirit of  keeping it real, we seek to preserve and expose the natural structure of a building, no matter the cost. Finishes such as reclaimed hickory, barn board pine and bowling alley tables are tangible examples of our commitment to sustainability. Explore the evolution of sweetgreen below.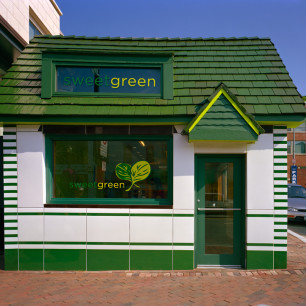 sweetgreen in schools
sweetgreen in schools is our homegrown program that educates kids about healthy eating, fitness and sustainability through fun, hands-on activities. What began in 2010 as a one-week curriculum in Washington, D.C. has since grown into a series of wellness workshops involving more than 1,000 students across DC, MD, VA and NYC each year.
Once you unlock green status with the sweetgreen app, 1% of each app purchase is donated to our sweetgreen in schools program and partners to provide nutrition education and access to healthy food for kids. Thank you for paying it forward and helping us make an impact!